Kirk Cameron.
That's right, Kirk Cameron.
Some would say he is…religious. He found a lifestyle choice that made him happy and you got to hear all about it, didn't you?
He took something uplifting and positive, and proceeded to go all-out-bat-shit crazy about it. How dare you not join him in his new conquest?
That's what it's like to quit smoking, and let me tell you, nobody likes a quitter*.
[*First time I've ever used the title in the actual blog. ]

I preach.
I bitch.
I judge.
This is my pedestal, and I will use it to pee on that ultra-light you are about to inhale.
"Get that shit at least fifty yards away from me if you're gonna light up. That's fucking disgusting."
Ex-smokers are fucking douche-bags. We are almost as bad as inmates who find Jesus in prison. We have seen the light, without using a Bic.
We are the Westboro Baptist Church, in that we both stand around all day pissing everyone off by proclaiming, "We Hate Fags." [See what I did there?]
I remember my first cigarette, I was 12 years old and I smoked half of it. I remember the smell was awful and that it tasted like used toilet paper. When I smoked, I wanted to look like-
James Dean
Frank Sinatra
Humphrey Bogart
But instead I just looked like a young, Bob Saget, sucking on a misty ultra-light. I never looked like a smoker, I looked like an after-school special. I looked like the kid who would tattle on me for smoking.
"Mom!!! Steve is smoking!!! I totally caught him- oh, fuck."
There was nothing like smoking a cigarette at sunrise with a cup of coffee in your hand. Nothing like having a few drinks or a big meal and getting that in your lungs to top of the night. The after-sex cigarette however, is entirely overrated. You know what the best thing after a long session of sex is? More sex….and a Capri Sun. I shit you not.
I overcame something two years ago. On April 1st, 2010 I decided to quit smoking and proceeded to become a fucking Nazi about it. I was the Jew-Hunter from "Inglorious Basterds" hunting out hidden Marlboro's.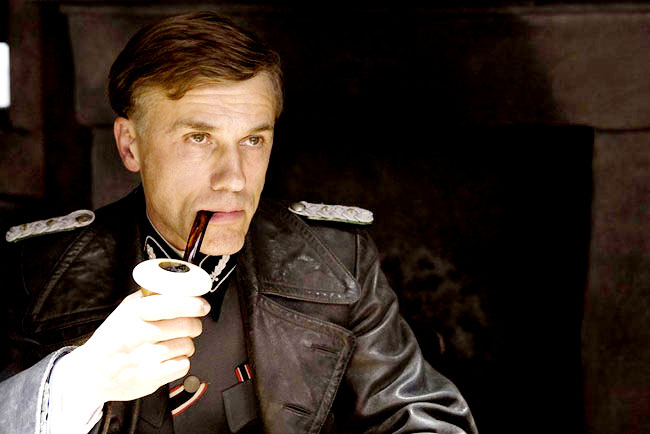 "Tell me where they are. Are you hiding them under the floorboard? Are they menthol? I will find them…and I will crush them. Now, can I have a glass of milk?"
When people overcome an obstacle they want everyone to know. Have you ever met an ex-alcoholic? Ex-Drug Addict? We want to boast about our accomplishment. We're proud, and that pride turns into anger and disdain for people who are repulsive enough to do what us 'smart individuals' walked away from.
Quitting something turns on a perpetual pat-yourself-on-the-back machine and I don't know how to turn it off.
When I was at 3 months of not smoking I remember my dad, a doctor, who's never smoked a puff in his life, saying, "I'm proud of you, just don't become an asshole about it."
But come on? I'm better than those dirty-ass smokers? Let me flex my lungs and show them! Weaklings! I'm pumped up on fucking oxygen and fresh air and I want to use every deeply inhaled breath to tell you how filthy you are.
I can smell it from your vehicle when I'm 50 yards behind you at a red light. The aroma leaking from your cracked window, makes me want to see how well your car looks once hit with my crow-bar.
The craving is gone completely, and to this day I haven't slipped and had, 'just one, just to remember.' Just the tip, Steve, c'mon.
It is nice to have been on both sides now-
I've been the smoker.
I've been the non-smoker.
…and I'm here to tell you that both sides are fucking assholes.
Nonsmokers (Never had a cigarette)- Eat a dick, you pretentious fucks. It must feel good to have never made a mistake in your life, and not need an eraser on your pencils you arrogant, pricks. "Ugh, smoking, gross, who would do that to themselves?" You know who would, people who have to put up with your sniveling attitude, that's who. Maybe you wouldn't smell smoke so much if your nose wasn't constantly up in the air. So, pardon me if the smoke from my cigarette is going to tarnish the gold on your scepter.
Smokers- Guess what, you don't need to smoke everywhere. I smoked for 10 years, there is no situation that you can't wait a few more minutes to get away from the general population for your fix. As a smoker I voted to BAN smoking in restaurants, you know why? It's fucking disgusting that's why. Cigarette smoke isn't a spice, it doesn't need to be sprinkled in your salad. I also never once smoked in front of my kids or in the car with them. You don't deserve 5 more breaks than I do at work, and your cheap perfume that smells like pomegranate fairy dust isn't masking that menthol, sweetie.
Ex-Smokers- Man, we're fucking awesome aren't we? I agree.
People from Utah- I just don't like you, Utah. I just want to hit your face, your fucking Utah face.
Want to know the real reason I am actually glad I don't smoke? Not to boast, not to be healthier, not to judge, not to help my lungs…I'm glad I quit because my 5 year old doesn't remember that I used to smoke.
He has no clue.
"Remember when daddy smoked?"
Nope.
"Sweet, let's go fill up a giant bowl with cereal and watch cartoons."
I will be exposed to my son one day for all the flaws and inconsistencies I'm guilty of, but I won't be a smoker in his eyes. I'll just be his dad……..the alcoholic.