Inspiration is a woman. 
In fact, let's go ahead and give inspiration human characteristics, and even go as far to name it.
Let's go with Kim. Kim Spiration.
I've had an on-again, off-again relationship with Kim. Kim is flawless. Perfect smile, skin, and body. She does whatever you want, and is always in constant need of attention.
Kim is also a complete nymphomaniac.
…and I was a bored husband coming home every night.
I think we all know what happened next….
Yeah, that's right, baby…
I'd loosen my belt…slip into something more comfortable,
Lick my lips, and bite at my bottom lip, because I was about to-
Eat a big bowl of Chef Boyardee in my sweat pants and sit on the couch to watch season four of "Breaking Bad." I'm a kinky bitch, what can I say.
I was ignoring Kim. The fire was burning out, our relationship was falling apart, and it was all my fault.
"I'm too tired tonight, baby."

"I have a headache."

"Work was really tough today."

"You just missed it, I already inspired in the shower this morning. Sorry."
Are you kidding me? What happened to my 13-year-old self? That guy always paid attention to Kim! There were traces of inspiration in class, in the bathroom, at track practice, it was all my younger self could think about, and now….nothing.
When did goals go flaccid? When did the love and devotion burn out? Even more importantly, will I ever get it back?
Yes. Yes I would.
It wasn't a blue pill, or toys, or a therapist.
Kim and I found each other again after the events of my recent lawn experience.
Since then, we've been inseparable. The spark is back, the chemistry, the devotion and let me tell you; it's back with a fury.
I'm not even using protection with her, it's hardcore.
I had Kim when I woke up.
I had Kim in the shower.
I had Kim in my car.
I had Kim…even around my girlfriend.
Kim has been walking funny.
I couldn't stop. It's flourishing. It's an addiction.
…and I love it. Kim loves it. We're both very happy. We have done Comedy-Sutra in almost every room of the house. It's in my articulation and in my typing…which is perfect because Kim likes when I use my mouth and fingers.
Kim is all that's on my mind. I can't stop my creative outlets lately, and I haven't had this feeling since I was younger. It's amazing. It's in more than just my writings, it's in exercise, running, being with my son, etc.
I'm bursting with it.
Then I see things like this, and it ruins everything-
Apparently, inspiration is now liking a ridiculous quote on your news-feed.
Kim has started a facebook account, everyone is 'liking' all of her pictures lately…and it needs to stop.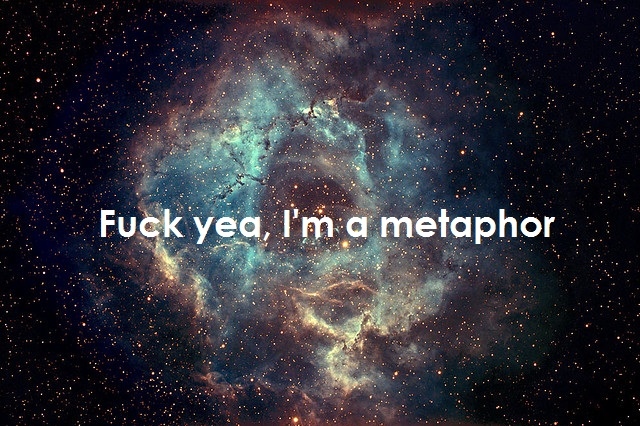 Inspiration is all we have. It's what fuels some of the most intriguing and intelligent people into doing something great. However, there seems to be a trend lately of thinking that regurgitating someone else's ideals puts you up in their ranks.
It's not.
I want to hear your inspirational quotes. Let me see your original thoughts over a black-and-white picture of Nietzsche taking a shit and reading "50 Shades of Grey."
A thought and ideal isn't plastic, or aluminum; it doesn't need to be recycled every week.
This isn't calling anyone out or saying people are unoriginal, however it is a CALL TO ACTION.
I'm impressed more by your own words than the fact that you can hit 'share'. It's as annoying as hearing people shouting Borat quotes at parties. Let's move on…forward.
There's no motivational assist, you're never going to call someone a genius for all the pictures with inspirational quotes they find. Of course everyone wants to be the person to inspire others, to say things that are meaningful, and I'm the same way-
Why do you think I bold certain phrases in my writings?
I want them out there. I want to be quoted. Because they will be MY words. My thoughts.
Write that down.
Ever see someone famous give an interview on how they got to where they are at and say something like, "I owe it all to my dad. He pulled me aside and said, 'son, don't give up  on your dreams.'"
That's inspiration.
Could you imagine a scientist or celebrity explaining how Instagram inspired them? Fuck that.
I guess in the end, if you need a black-and-white photo of a crying female saying, "Real men don't hit women" then maybe we need Chris Brown to come along and slap some sense into you.
Doing something is proving to be more inspiring than anything I have ever shared with friends online.
Until then, STFU about YOLO, ASAP.